Covid-19 Testing For High Risk Sectors
UNILABS PROTECT™ FOR HIGH-RISK SECTORS
Unilabs is working with sectors who are particularly affected by COVID-19 to develop and implement solutions that help you protect your customers, your staff and your business.
COVID-19 has taken a particular toll on industries involved in face-to-face customer service, travel, events with high crowd levels, or all of the above. Unilabs has been proactive in developing rapid, reliable screening programmes that can make all the difference.
If you work in a highly impacted sector, we would be happy to support you. Contact us at covid.testing@unilabs.com
You can read more about our centres of expertise built around our Special programmes here.
Unilabs Protect™ for Travel
As customers return to travel – and you return to work – there is understandable concern and uncertainty around which locations and travel habits are safe for the international traveller.
Travel packages frequently require travellers to be certified COVID-19-free
Returning travellers seek assurance that they are returning home uninfected
Managing this extra clinical burden is new territory for most travel–related companies, and Unilabs is here to help you navigate this important new element of your service.
All clients in our Unilabs ProtectTM for Travel programme can offer their travelling customers access to our testing centres around Europe, Latin America and the Middle East. Results are guaranteed in under 48 hours from sample taking.
All this means you can stay focused on making sure your customers enjoy their trips!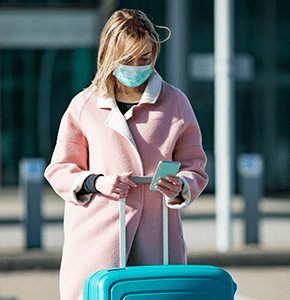 Unilabs Protect™ for Sports 
The sports industry quickly proved one of the most-missed aspects of "life as usual", and now steps have been taken to reintroduce professional sports fixtures into our lives.
But planning these events cannot go back to how it was before, when one positive diagnosis could keep a whole team in lockdown.
In an industry as diverse and mobile as professional sport, a robust solution is more important than ever. Portugal's Liga football League, some of the most important cycling events in France as well as the Slovak Volleyball & Beach-Volleyball teams are just some of the sporting institutions Unilabs is supporting with thorough, rapid COVID-19 testing.
To discuss how we can help your sporting team or organisation stay competitive through this pandemic, contact us at covid.testing@unilabs.com.