What is a COVID-19 Antigen Test?
A COVID-19 antigen test detects coronavirus proteins in the mouth and throat. This test determines whether a patient is currently infected with COVID-19.
Antigen testing is a suitable 'first line of defense' test against COVID-19, particularly in individuals who have COVID symptoms, because it is a relatively simple procedure, and is quicker than other approaches – like PCR testing; it typically takes around 15 minutes for a result.
It is less accurate than PCR testing, however, as a high viral load is required for the antigen test to detect SARS-CoV-2 virus (COVID-19). Some people in the early or late stages of infection may therefore return a false result, although this is not common.
How is a COVID­19 Antigen Test Taken?
COVID-19 antigen tests typically involve a swab of the patient's nose and throat (sample can also be saliva or blood). This sample is then analyed using the same underlying processes as a pregnancy test.
Results are typically available within 15 to 30 minutes of the sample being analysed, meaning a patient on site may have their results before they leave.
Antigen Testing at Unilabs
Unilabs and International Guidelines consider PCR to be the "Gold standard" for diagnosing current COVID-19 infections, due to its higher sensitivity and accuracy. PCR testing can also reliably detect COVID-19 in people who have no symptoms or signs, which is true in around 1/3 of infected people.
However we recognise there are specific situations when the speed and simplicity benefits of antigen testing make it an attractive option; for example, the mass-testing of schoolchildren and their families, or last-minute testing of travellers.
Unilabs works with a wide variety of businesses and groups to deliver bespoke antigen testing programmes at scale.
Talk to us today about whether COVID-19 antigen testing is right for your circumstances or contact us if you represent an organization.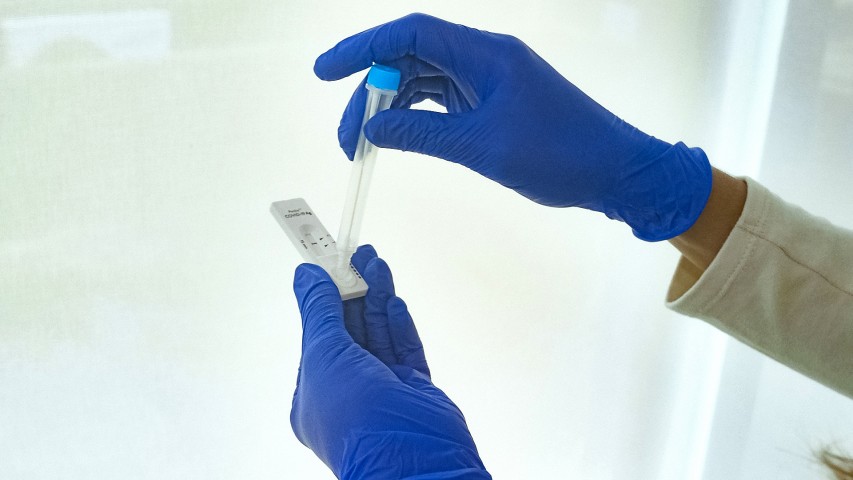 What to expect from a Unilabs COVID-19 Antigen Test:
Here is what you will experience during a Unilabs COVID-19 antigen test:
Depending on your chosen location, you are either greeted by receptionists at one of our centres, or we travel direct to your door
We carefully swab the inside of your throat (tonsil area) and nose (nasal channel) whilst ensuring you are relaxed, informed and comfortable
Your sample is typically then processed on site while you wait. If COVID-19 guidelines prohibit you from waiting at your testing location, we will take your contact information so you can still receive your results swiftly
You receive your results within minutes of your test
Understanding Your COVID-19 Antigen Test Results
There are 3 possible outcomes you may receive from a COVID-19 antigen test:
1. Positive COVID-19 antigen test result
2. Negative COVID-19 antigen test result
3. Void antigen test result
Here is what each outcome means:
What a Positive COVID­19 Antigen Test Means
A positive COVID-19 Antigen test result means it is extremely likely you are carrying SARS-CoV-2 virus (COVID-19). This means you are at risk from developing COVID-19 yourself, and could also pass the virus on to others.
You should seek medical advice in relation to your infection and follow local government guidelines, which usually involves self-isolating for a recommended time to avoid infecting others.
What a Negative COVID­19 Antigen Test Means
A negative result from your COVID-19 Antigen test means it is very likely you did not have Coronavirus (SARS-CoV-2 virus) at the time of your test.
Negative Antigen test results are not a guarantee you are free from infection, and of course do nothing to change your risk of future infection. You should continue to practise social distancing and cleanliness protocols with the usual rigour, and follow your local government advice day-to-day
What a Void COVID­19 Antigen Test Means
A void antigen test means your test was not viable. Most void results are due to a fault with the testing kit.
Fortunately, with antigen testing being so swift, in many instances a second test can be swiftly taken and evaluated.
Who Should Get a COVID-19 Antigen Test?
Unilabs recommends COVID-19 PCR testing as the most accurate test for diagnosing current coronavirus infections.
We recommend considering antigen testing if any of these circumstances apply:
You are exhibiting coronavirus symptoms
You think you have been infected for approximately 2-4 days
You are in a time-critical circumstance, e.g. required to travel imminently
You are responsible for an environment where regular mass-testing is required, for example: a busy workplace or a school
Contact our team today to discuss whether PCR or antigen testing is the best solution for the needs of you, or your organisation.