COVID-19 PCR Testing From Unilabs
What is PCR Testing?
PCR, or Polymerase Chain Reaction, is a cornerstone of modern biological medicine. The PCR process creates millions of replicas of a particular piece of DNA in a sample, amplifying its 'visibility' and making it easier to analyse in greater detail. PCR has enabled huge advances in diagnostic medicine including our response to the coronavirus.
How Does PCR Testing Detect COVID-19?
PCR testing is very effective for early diagnosis of COVID-19 in currently-infected people.
PCR tests determine whether an individual is currently infected with SARS-CoV-2 virus (COVID-19), and therefore contagious to others. This is extremely important towards preventing further transmission of the virus. PCR detects the RNA (ribonucleic acid) of the coronavirus. This is different to a serology (antibody) test for COVID-19, which detects human antibodies. Find out more about serology testing here.
PCR can only detect COVID-19 RNA if the individual is actively infected. Detection of viral RNA with PCR testing allows COVID-19 diagnosis early on – before the body has produced an antibody response or even before the individual shows symptoms.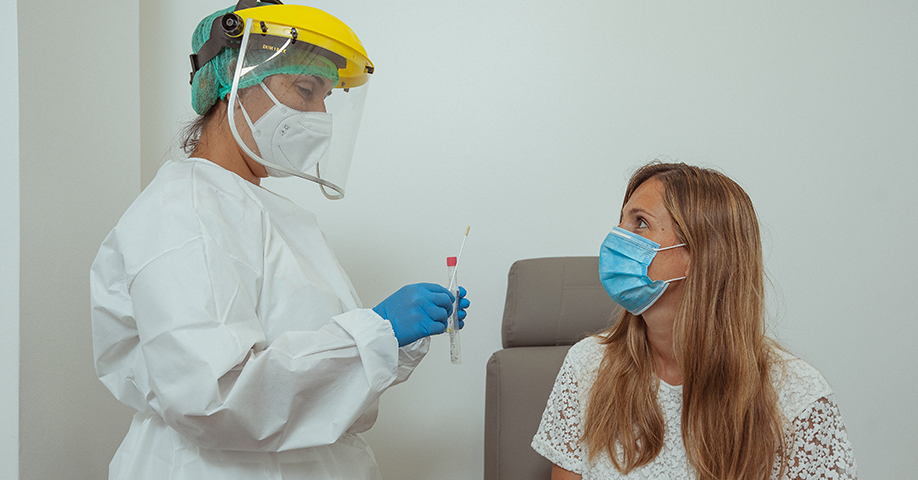 How is a Unilabs PCR COVID-19 Test Taken?
A Unilabs PCR test for coronavirus requires a nasal and/or oral swab and even a saliva sample. Depending on your location, Unilabs offers home PCR testing kits or testing at your closest Unilabs clinic.
In addition to our established clinics, we also offer sample collection through our mobile labs, mobile collection teams, as well as our professional flying nurses that go to on-site locations.
Your test sample is taken to one of our medical laboratories for clinical testing by our skilled lab technicians. Your swab sample will be examined and analysed to determine whether or not the virus is present.
What Does a Positive PCR Test Result Mean?
A positive COVID-19 PCR test result means it is extremely likely you are carrying SARS-CoV-2 virus (COVID-19). This means you are at risk from developing COVID-19 yourself, and could also pass the virus on to others.
You should seek medical advice in relation to your infection and follow local government guidelines, which usually involves self-isolating for a recommended time to avoid infecting others.
What Does a Negative PCR Test Result Mean?
A negative result from your COVID-19 PCR test means it is very likely you did not have Coronavirus (SARS-CoV-2 virus) at the time of your test.
Negative PCR test results are not a guarantee you are free from infection, and of course do nothing to change your risk of future infection. You should continue to practise social distancing and cleanliness protocols with the usual rigour, and follow your local government advice day-to-day.
How Long Does It Take to Receive PCR Test Results?
Once your PCR test sample analysis has yielded a result, Unilabs recognises the importance of getting that information to you swiftly. Unilabs PCR test results usually take around 12-48 hours from us collecting your sample.
The speed of your results can increase or decrease depend on factors such as your physical distance from the lab, or the workload of the lab at that time. If there are any anticipated delays, we always do our best to contact you regarding this.
When Should I Get a COVID-19 PCR Test?
If you have shown any of the common COVID-19 symptoms then you should self-isolate and book a PCR test for yourself as soon as possible, according to guidelines in your country.
If you have been recently exposed to others who are displaying symptoms or who have tested positive for the virus, then you should consult your local guidelines to know if it is necessary to book a PCR test.
For more information about PCR testing please get in touch with our experts today.